In their most eloquent moments of flourishing political rhetoric, presidents embrace the metaphysical concept of the American experiment that goes beyond any one person, any one moment or any one time. Ronald Reagan compared the nation to St. Augustine's shining city on a hill. Barack Obama called America a "daring idea."
But in an age of deep divisions and distrust, the average American's faith in that glittering ideal has been rattled — and many do not believe in its future success.
A survey from the Pew Research Center released this week underscores just how turbulent the current era has become, and how unmoored Americans are from the political leaders who run the nation. The survey shows a nation beaten down by decades of political rhetoric, upset with the choices before them and bereft of the hope that has underpinned the national ethos since the end of World War II.
Today, 65% of Americans say they always feel exhausted when they think about politics, and 55% say they always feel angry. Just 10% told pollsters they always feel hopeful.
Asked to describe politics these days, almost 8 in 10 Americans come up with a negative phrase. "Divisive," "corrupt," "bad," "messy," "chaos," "polarized" and "dysfunctional" were among the most commonly used words — along with a few others that are not fit for a family publication.
Only 4% say the American political system is working extremely or very well, and just 4% say they have a lot of confidence in the future of that system. A whopping 63% say they have no confidence, or not too much, in the future of our political system.
And only 16% say they trust the federal government, statistically tied with the lowest point in the 65 years Pew has been asking the question.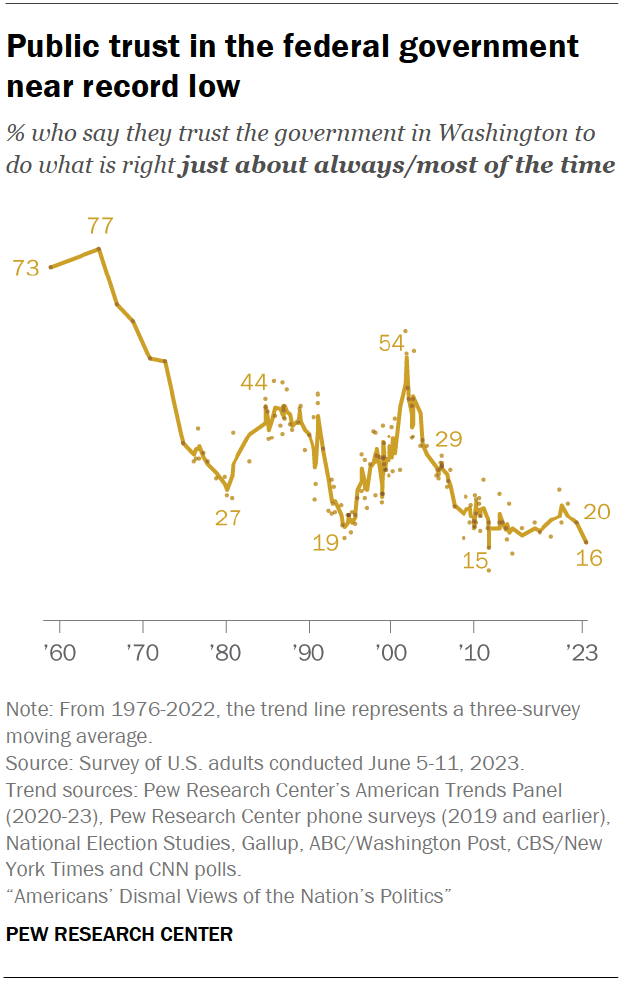 Professional partisans argue that the media portrays them unfairly, whether it is Republicans who claim a liberal bias or Democrats who cite a misplaced devotion to both-sides-isms. But Americans place blame at all of our feet: Both parties are seen more unfavorably now than at any time in the decades Pew has asked the question, and more than a quarter of Americans say they view both parties unfavorably — up from just 6% who said the same in 1994.
"Extremism on both sides exploited by the mainstream media for ratings," one man in his 30s told pollsters, when asked about the biggest problems in American politics. "It is making it impossible for both parties to work together."
Huge majorities — including 85% of committed Democrats and 87% of committed Republicans — say the two parties are more focused on fighting each other than on solving problems. Just 14% say most elected officials care about people like them.
The feelings of deep division go beyond politicians and extend into our daily lives. Research from the General Social Survey finds just 25% of Americans say they are very happy with their lives, higher than pandemic-era views but lower than at any other point in the 50 years the survey has been conducted by the National Opinion Research Center.
Similarly, just 43% say life is exciting, lower than at any point — with the exception of pandemic lockdowns — since the 1970s.
According to 84% of Americans in the Pew survey, the tone and nature of the political debate has become less respectful in recent years. And 61% say they find it stressful and frustrating to talk about politics with people with whom they disagree, a higher share than in recent years.
And no wonder: American politics has become the modern version of trench warfare, with two sides dug into hardened positions from which they will not be dislodged.
National polls that show a tight race between President Biden and former President Donald Trump are illustrative not of a healthy debate about issues that confront the nation, but of the paucity of the modern middle. What's the point of talking politics when it's impossible to change our minds?
The American idea has been tested before, through wars and depressions and social upheaval. Throughout our history, Americans have sought comfort and collectivity in a hopeful future. More and more, the Pew poll shows, that hope is dimming.